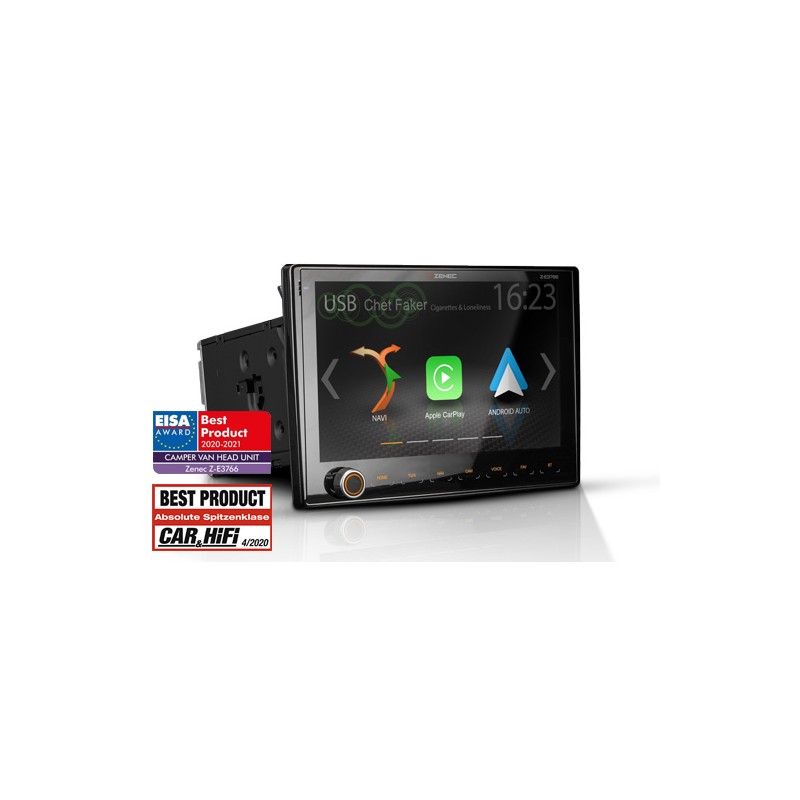  
Z-E3766 - ZENEC 9'' Naviceiver POUR FIAT Ducato CITROEN PEUGEOT
CARTE GPS ET ANTENNE DAB NON INCLUS
Z-E3766 – Vehicle-Specific Naviceiver for Fiat Ducato
Z-E3766 – Vehicle-Specific Naviceiver for Fiat Ducato
Innovative multimedia and the most advanced navigation functions for your motor home – the Z-E3766 from the E>GO range is specifically developed for the FIAT Ducato III, Citroën Jumper II, and Peugeot Boxer II. The Z-E3766 blends in perfectly with the original look of your vehicle, and can be comfortably controlled from the touch sensitive capacitive 9"/22.9 cm screen with glass surface.
The Z-E3766 provides for an easy and totally safe smartphone use in the car. Via USB you can dock your phone directly to the infotainer – the Z-E3766 is Apple CarPlay and Google Android AutoTM certified. Making phone calls, use Google or Apple maps to find a destination, play music and send or receive messages is true mobile convenience where the choice is yours: control and operate apps either via device touchscreen or with the Apple Siri or Google's voice assistants.
| Model | Type | Model Year |
| --- | --- | --- |
| FIAT Ducato III | 250/251 | 2006 - 2011 |
| FIAT Ducato III | 250/251 | 2011 - 2014 |
| FIAT Ducato III | 250/251 (X290) | as of 2014 |
| CITROËN Jumper II | 250/250D/250L | as of 2006 |
| PEUGEOT Boxer II | 250/251 | as of 2006 |
3D motor caravan navigation software with coverage of 47 countries: Western and Eastern Europe, Turkey, Ukraine, Belarus and Russia (on 16 GB microSDHC card)*
Pre-configured motor caravan profiles with additional input of height, width, length, weight and trailer data
Camping POI package with coverage of most European countries (multilingual: in DE / EN / NL / IT / FR)
European Premium POI package with over 6.5 million special destinations
Realistic 3D rendering of terrain, landmarks, city centers and highway exits
Dead Reckoning navigation for precise route guidance without GNSS signal (tunnels, underpasses, parking decks etc.)
Navi Splitscreen in audio sources with street names and house numbers, as well as turn-by-turn info with distance to next turn
Lane assistance, Tunnel mode, 3D auto-zoom for crossings and roundabouts, intelligent alternative route calculation, etc.
TTS voice guidance
TPEG traffic service data via DAB+ (country-specific coverage, free service only)
TMC receiver
3 years map update subscription (Z-EMAP66-MH3), 7 years map update subscription (Z-EMAP66-MH7)
*The navigation bundles Z-EMAP66-MH3 and Z-EMAP66-MH7 are not part of the set content of the Z-E3766 device.
Aucun avis n'a été publié pour le moment.