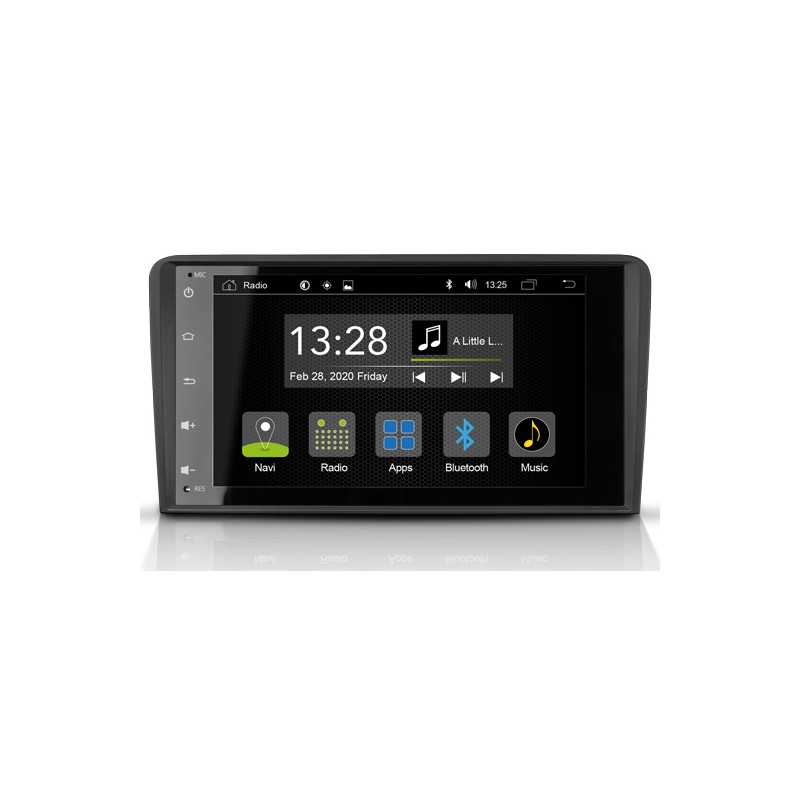  
R-C11AD1 - RADICAL R-C11AD1 Audi A3 Infotainment Android 9.0
Android car radio for AUDI A3 | R-C11AD1
9.0 Android operating system
8" / 20.3 cm capacitive touchscreen, DAB+, USB
Bluetooth, WLAN / WiFi, app mirroring
Navigation upgradeable
Multimedia, communication and navigation for your AUDI A3
The R-C11AD1 is a modern multimedia system with a capacitive 8" / 20.3 cm touchscreen display, DAB+ and FM tuners, two USB ports, and Bluetooth system. RADICAL's media center for the Audi A3 offers you innovative possibilities to use your mobile phone in your car. With this Android car radio you can, for example, surf the internet via WLAN, stream songs and videos from the web, listen to internet radio and use Spotify. And because the R-C11AD1 is an Android system, you can install your favorite apps directly on the Audi car radio: Only you decide which features you want to use in your car!
Multimedia and infotainment – the highlights
android
9.0 Android OS operating system
Allows offline installation of Android smartphone apps directly on the R-C11AD1
wifi
WLAN – mobile internet access
Spotify, internet radio, YouTube, navigation in the Audi – the integrated WLAN module gives you mobile web access
smartphone
EasyConnection – mirror your apps
Allows the screen contents of Android mobile phones or Apple iPhones to be mirrored onto the car radio display
bluetooth_audio
Bluetooth – phone calls & music streaming
Integrated Bluetooth system for freehand phone calls and wireless A2DP music streaming from the smartphone
directions_car
Digital radio on board
The integrated DAB+ tuner is easy to use and ensures optimal DAB+ reception
near_me
Navigation system for your Audi A3
Easily expandable to a sat nav with the R-MAPC10 navigation package available as an accessory
BRAND
MODEL
TYPE
MODEL ­YEAR
AUDI
A3 (Facelift)
8P
2008 > 2012
AUDI
A3 Sportback
8PA
2004 > 2008
AUDI
A3 Sportback Facelift
8PA
2008 > 2012
AUDI
A3 Convertible
8P
2008 > 2013
Aucun avis n'a été publié pour le moment.